Jersey faces hosepipe ban threat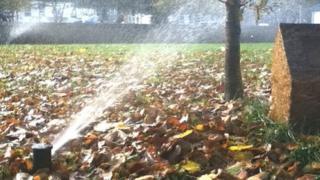 Jersey could get a hosepipe ban in the summer due to a lack of rain, according to the head of Jersey Water.
Howard Snowden said he was concerned rainfall in January, February and March had been well below average.
He said reservoirs were full but streamflows had about half the amount he would expect for this time of year.
Mr Snowden said while there was sufficient water for the next three to four months he could not rule out a hosepipe ban later in the year.
He said if April was very dry there could be problems for the water supply.
There was concern in November that Jersey could have to import water by tanker as reservoir levels dropped to 35%.
Heavy rainfall in December, more than double the usual amount, helped bring the reservoirs back to normal levels.