Union and ministers meet for talks on dock worker jobs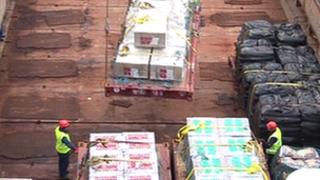 The Unite union has met Jersey ministers to try to save jobs at the dock workers firm George Troy and Sons.
Nick Corbel, from Unite, said negotiations were at a delicate stage.
Mr Corbel said meetings with chief minister Senator Ian Gorst had been constructive and "every possible option was being explored".
There are concerns over the effect on island freight of the UK government scrapping a system for selling cheap goods online free of VAT.
It is thought that between 20 and 30 dock workers are employed by George Troy and Sons.
Fewer packages
Low Value Consignment Relief (LVCR) means no VAT is charged on goods valued less than £15, such as CDs, when sent from anywhere outside of the European Union to the UK.
It will be scrapped from 1 April and Jersey and Guernsey lost their case in the High Court to try to retain it.
The islands' governments said hundreds of jobs were at risk when the so-called VAT loophole closes.
Economic Development Minister Senator Alan Maclean said Jersey's docks could be affected when LVCR closes.
He said freight could also suffer as fewer packages were sent to and from the island.
Senator Maclean said his department was doing all it could to protect that part of Jersey's economy.
George Troy and Sons declined to comment.