Jersey's Highlands College taking on more students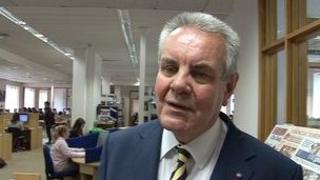 Jersey's Highlands College is preparing to take on more students as the economic downturn continues.
There are already more than 1,100 full time students and the college expects a further 100 this year.
Highlands College is experiencing a period of rapid expansion and last year received extra funding to cope with higher numbers of students.
Prof Ed Sallis, the principal, called it counter cyclical, saying as the economy slowed down, colleges boomed.
But he also said the success of the college, which now offers degree courses, was down to being non-selective.
'Quality of learning'
Attendance and retention of students is above the national average, and if Highlands was in England, it would be in the top 5-10% of further education colleges.
Most of its funding comes from the island's education department which provided £8.2m last year.
The rest of the £11.5m budget came from fees and money from the States.
Prof Sallis said the big challenge would be maintaining the quality of learning as numbers continue to grow.