No Miss Junior Battle of Flowers in Jersey for 2012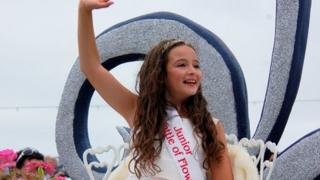 There will not be a Miss Junior Jersey Battle of Flowers at this year's parade because of a lack of interest from children say organisers.
The Battle of Flowers Association said there was not enough interest in the role for it to continue.
Each year a girl aged between eight and 12-years-old is chosen to represent the island at the annual event.
She usually shares centre stage with Mr and Miss Battle of Flowers during the August parades.
Tony Perkins, the chairman of the association, said it was not the first time the role has been scrapped.
He said: "The Junior Mr and Miss Battle was started in the late 1970s by the Jersey Evening Post and that continued for about 18 years, but they stopped it because of resources and cost if my memory serves me right."
Meanwhile he said plans for this year's Battle of Flowers event on 9 August were in full swing.
The Jersey Battle of Flowers takes place every year and islanders build floats and decorate them with flowers.
It attracts about 30,000 spectators and was first held in 1902 as a celebration for the coronation of Edward VII.