Jersey job hope from new pension scheme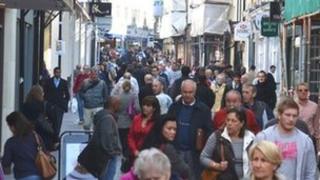 A Jersey pension scheme could create about 120 jobs and generate £1.2m in tax revenues according to the treasury minister.
Senator Philip Ozouf said the recognised pension scheme would be open to people anywhere in the world.
He said it would allow people to save for their retirement in a secure environment.
Other pension funds can apply to join the Jersey scheme as long as they are based in the island.
Growing market
It was developed with the Jersey finance industry and Senator Ozouf said it would help the industry "capitalise on the growing international pension market".
To qualify a pension scheme would need to be based in the island, not pay benefits until the age of 55 and at least 70% of the funds must be designated to provide members with an income for life.
Senator Ozouf said no Jersey tax relief would be available for contributions made to a participating pension scheme and no Jersey tax would be payable on benefits paid out.
He said the scheme could be used for pension transfers from the UK when an individual was moving abroad and wanted to transfer their existing pension scheme out of the UK.
The minister said the scheme would also be available to Jersey residents, although he said it would probably still be more effective to save through existing local pension schemes.
He said these offer immediate tax relief on pension savings.