Jersey survey raises concerns on Taser stun guns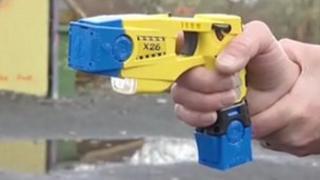 More than half of those who have responded to a survey oppose the introduction of Taser stun guns to Jersey.
About 200 people have been questioned so far and 60% said they would not trust the States of Jersey Police to use Tasers responsibly.
The electrical weapons are used to subdue violent suspects.
The survey, which is still continuing, is part of a review by the Education and Home Affairs Scrutiny panel.
The review will consider when Tasers might be used in Jersey, the alternatives, the human rights issues, the costs involved and police training.
There will be a public hearing on 27 April when the panel will interview the minister and the police chief.