'Confidence at its lowest' in Jersey's retail industry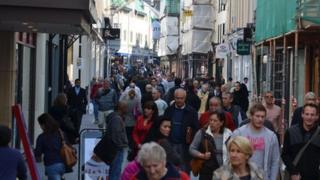 Confidence in Jersey's retail industry is at its lowest since the recession began, according to a States survey.
The business tendency survey found more businesses in Jersey had seen a drop in trade over the past three months.
It said more than half of businesses that responded to the survey said profits were down on the end of 2011.
It found in particular the mood in the retail and wholesale industry was low, with concern about job opportunities and the future.
But those in the building trade and Jersey's largest industry, finance, were less negative about the coming months than in the last survey.
The States Statistics Unit first carried out the business tendency survey in September 2009 to provide qualitative information about Jersey's economy.
A spokesman for the unit said the survey was used to monitor economic performance in Jersey.