Jersey language added to Facebook options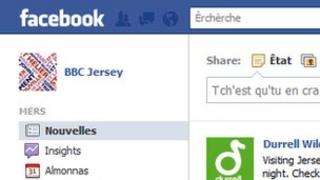 The world's largest social networking site has now been translated into Jersey's native language Jerriais.
Tony Scott Warren, from the Jerriais Office, has been working on the translations for Facebook for the past few months.
He said people could now login and use the site in the language.
Mr Scott-Warren told BBC News he had been using it for a while and it now looks "abnormal when he goes to the English version".
He said: "I want us to have a Jerriais presence on Facebook as it is the one bit of social media we are not exploiting.
"I thought it would be good if we could not only have a Jerriais section and a Jerriais group on Facebook but also have the capability to look at it in our own language."
Mr Scott-Warren said there were a number of words he struggled with as they had no direct alternatives in Jerriais.
"I have had to try and devise one or two ways of saying things," he said.
"They have a button for status but we do not have a word in Jerriais for status, so we had to have a discussion around the office about that."
According to the 2001 census there were 2,674 people who spoke Jerriais.