Waste used to heat bat home at Durrell wildlife park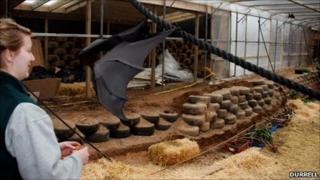 The bats at Jersey's Durrell wildlife park can now enjoy temperatures similar to those in their tropical forest homes without it costing the Earth.
A burner using waste wood and animal feed is heating the enclosure for the endangered Livingstone's fruit bats.
The bats live in an enclosure made from recycled tyres, wine bottles and straw bales.
Staff at Durrell wanted to keep the creatures who live there warm using an energy-efficient system.
A biomass burner, fuelled by waste wood and animal feed, gives off heat levels similar to the bats' home forests in the Cormoros Islands near Africa.
A spokesperson said it also provided a use for the waste generated by the wildlife park which does not compost well.