Sapper Tom Richardson Afghanistan service recognised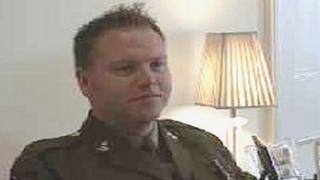 A member of the Jersey Field Squadron has been honoured for his service in Afghanistan.
Sapper Tom Richardson joined the Jersey Field Squadron in 2001 and analysed video to detect unexploded devices in Afghanistan.
He recently came home after two years attached to the Royal Artillery as a full-time reservist.
He has been awarded the General Officer Commanding Theatre Troops Certificate of Meritorious Service.
Sapper Richardson was praised for his outstanding professionalism in a highly pressurised environment.
Maj Nick Spratley, the Officer Commanding Jersey Field Squadron, said it was a great achievement.
He said: "He has done a sterling job out there, he is a good operator and a real asset to the squadron and the reserves."