Jersey treasury minister wants more Middle East business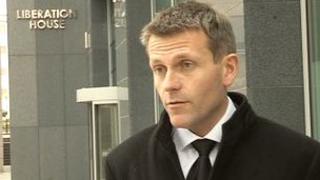 Jersey needs to work harder to grow business with the Middle East according to the island's treasury minister.
Senator Philip Ozouf is on a three-day trip to the United Arab Emirates to visit the British Embassy in Dubai.
He said about 13% of all offshore bank deposits in the island were from the UAE.
The minister said that the closure of the Jersey branch of the Allied Irish Bank (AIB) will be one issue on their agenda.
Bank closure
He said: "The Abu Dhabi commercial bank was being hosted by AIB which announced its closure out of Jersey two weeks ago.
"We are very keen to ensure the Abu Dhabi commercial bank will continue its operation in Jersey.
"A very successful business was hosted by AIB, AIB's closure puts that business at risk so we are going to discuss ways they can continue, maybe by opening their own standalone office."
He said the United Arab Emirates was regarded as one of the most stable areas in the gulf region which is why the island had an office there.
He was also invited to speak at a reception to celebrate the Queen's birthday and will present officials with a holographic portrait of the Queen.