Jersey minister changes system at three junctions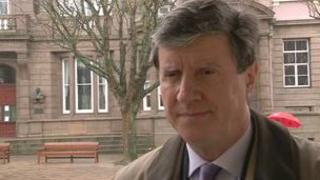 Drivers will have to filter in turn at three junctions in St Helier after changes by the transport minister.
Transport and Technical Services staff have put up new signs in the St Saviour's Road area.
The "filter in turn" system has been used in Jersey for many years but is not known in the rest of Europe.
The transport minister, Deputy Kevin Lewis, said motorists already unofficially took it in turns during rush hour at the three junctions.
He said he was a "keen supporter" of filter in turn junctions because they encouraged considerate driving.
The junctions will be the first to use the new filter in turn signage which was approved by the minister on 24 February.
The signs are based on the current give way red triangle sign, which is internationally recognised.
Deputy Lewis said: "Although non English speaking road users may not understand the 'filter in turn' wording, they would know that they should give way."