Jersey farmer wants support from government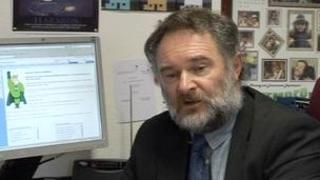 A Jersey small scale farmer said businesses like his were struggling and he wants the government to do more to help.
Steve Carter, who runs Farm Fresh Organics in St Lawrence, said there was less support from the States than in the past.
He said there used to be schemes which encouraged farmers to grow organically.
Environment Minister Deputy Rob Duhamel said more money was not the best way to help island farmers.
'Business potentials'
"I think we should be doing more but not just dishing out tax payers money," he said.
"We should be inviting other agriculturalists over to the island and stimulating discussions about a whole range of growing methods and business potentials."
Mr Carter said that without support farmers were abandoning organic farming for more conventional methods.
His comments came as a party of French politicians and experts were in the island to talk to ministers about how the island helps its farmers.
Mr Carter said the government should offer more support to their industry if it wanted it to survive.
"I have been involved with the farmers union for a number of years and go to meetings with politicians - there has been little support," he said.
"We are unfortunately a very small player in the island economy these days."