Jersey police arrest two teenagers at Muratti match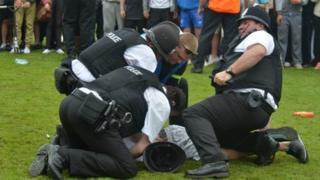 Jersey Police arrested two teenagers at the annual Jersey versus Guernsey football match.
The match for the Muratti Vase was watched by about 2,000 fans from across the islands at the Springfield Stadium on Monday.
A 16-year-old was arrested during the game for public order offences and a 15-year old for minor common assault after the match.
Police said the event passed without any major problems.
Fans from both sides ran on to the pitch at the end of the match and police had to work to keep them apart.
A number of missiles, including bottles, carrots and eggs, were thrown from both sides.
They said that most fans were well behaved and a credit to the islands.