The Schmallenberg virus found at another Jersey farm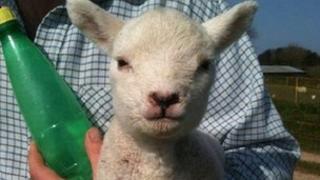 A third case of the Schmallenberg virus has been found in a flock of sheep at a Jersey farm.
The virus which is thought to spread through midges causes deformed or stillborn livestock.
Schmallenberg first appeared in Jersey in March when five lambs were born dead and badly deformed.
The States Vet Linda Lowseck said she was waiting for more test results, but she said dairy farmers needed to be cautious.
She said: "There is a concern for farmers because they may have cows which appear perfectly normal now but they are carrying deformed calves which will develop to full size but the cow will not be able to give birth on her own.
"So farmers know they need to be ready to step in to assist or call their vet and they may in the most extreme situation need a caesarean section."
There have been dozens of reports of the Schmallenberg virus across England and cases have been reported in Normandy, France.