Jersey's fire damaged hotel to be replaced with flats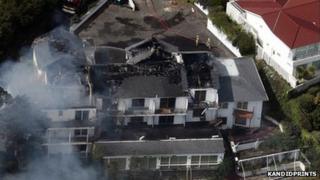 A derelict Jersey hotel which was destroyed by fire two years ago is to be replaced by flats.
The remains of the Mont de la Rocque Hotel, in St Aubin, are to be demolished and nine apartments built on the site together with parking.
The fire was caused by a barbecue which was not put out properly, said Jersey Police. Eight teenagers who were at the scene were given cautions.
The States approved the plans for the flats at a ministerial meeting.