Jersey market traders worry post office loss will cut trade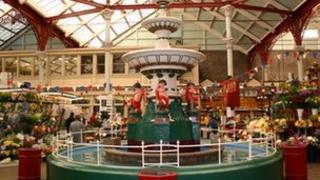 A cafe owner in Jersey's Central Market said the loss of the post office would affect trade.
Hub Europe said UK authorities made it impossible to carry on after refusing to recognise it as a postal operator.
Six people will lose their jobs when the post office the company runs closes at the end of the month.
Alvin Aaron who owns Natalie's cafe and the Noodle Bar in the Market said the government should have done more to save the post office.
The Managing Director of Hub Europe Christopher Bee said he did not agree with HM Revenues and Customs that his firm works in freight.
He said: "We have handled over a million items this year which I think differentiates us from freight operators.
"We have a postal licence which is almost exactly the same as Jersey Post's postal licence.
"We are offering services to both industry and the public so I think it is a bit difficult to compare us to a freight operator which would normally moves boxes and containers around.
"We are moving smaller items and in very large quantities."