Jersey treasury minister could resign if States votes against him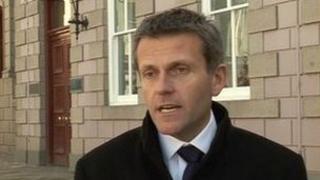 Jersey's treasury minister said he would resign if he lost a vote of confidence in the States.
Five trade unions have called for Senator Philip Ozouf to resign from the role.
A spokesman for the unions said they had no confidence after his handling of a failed deal to buy a new police station.
Senator Ozouf said: "If the council of ministers lose confidence in a minister then the minister resigns."
BBC Jersey's political reporter Chris Rayner said there was a States meeting on Tuesday which would give the opportunity for someone to put a confidence motion in the senator.
Mr Rayner said he had learnt there were moves to engineer his removal by a number of States members.
A report from Jersey's comptroller and auditor general criticised the way the minister had tried to stop the deal.
Senator Ozouf said he had always acted in the best interests of the public and that he was right "to try and save the public money".
The Jersey Prison Service Association, NASUWT, Jersey Nursing Association, Unite and the Jersey Fire & Rescue Association said they had no confidence in him and the only response was for him to resign.
If he will not stand down, they have called on Jersey's chief minister to remove him from his post.
But in response to the report released last week, Senator Ozouf said: "It's very easy to say when someone is being challenged that that behaviour is too challenging, well we were at risk of purchasing the most expensive piece of property the States would have ever bought - I think the public expect me to ask questions.
"I think I was right to try and save the public money, that is my job."