Portuguese food fair to be held on Jersey's Waterfront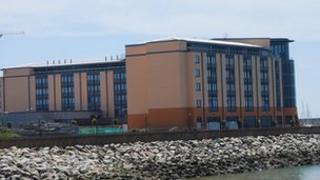 Jersey's Portuguese food fair will be at held at a new site where it will be twice the size on previous years.
"We are relocating to the Waterfront this year, which gives us space for nearly twice as many food and drinks stalls," Deputy Richard Rondel said.
"There has even been interest from a Portuguese TV company to come and cover the excitement."
Last year's festival was held in People's Park in St Helier.
Co-organiser Debbie De Sousa said: "The official twinning of Funchal and St Helier took place in April and all the activity has brought a real buzz to the preparations for this year's food festival."
The fair will be free to enter and runs from the 23 to 27 August 2012.
The site, next to the Radisson Hotel, will also be used for the Queen's Diamond Jubilee celebrations and a science fair for young people.