Jersey Fisheries tag sea bass to manage stocks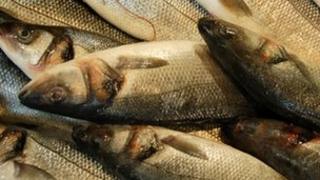 A new scheme is being set up to manage sea bass stocks in Jersey.
The island's fisheries department said it was working with leisure anglers to tag sea bass and other important sea creatures.
The department wants to hear from people who have recaptured and released the fish, so it can record when and where they were found.
The Marine and Coastal Officer, Greg Morel, said it would help to manage fish stocks.
He said the bright yellow markers were not painful for the fish.
"We really want to know where our fish go and how long they go away for, if indeed they do leave Jersey," he said.
"It will help us to put together a management plan to protect the stocks in the future.
"What we are really interested in is the relationship our fish have with other stocks in the Channel."