Masts to measure wind on Jersey's offshore reefs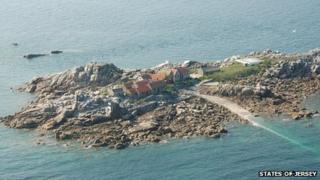 There are plans to put up masts on Jersey's offshore reefs to test the power of the wind.
The masts, which are 33ft (10 metres) high, could measure the wind around the Minquiers and the Ecrehous during a two year trial.
But Jersey's Environment Department said there were no plans for wind turbines in those areas.
Environmentalists had mixed views about their placement in sensitive areas for nature.
Marine biologist Nic Jouault said: "We are all in favour of monitoring the wind and the conditions and the various safety things for boat users as well.
"We are just a little bit concerned about the nesting birds and any interference that may happen with them."
The organisers said nesting birds would not be disturbed.
And a spokesman said there were no plans for wind turbines near the reefs, as any future wind farms would be well to the west of the island.
The two-year trial will monitor the wind to get a better understanding of its power around the island's shores.
There will also be wind testing equipment at Corbiere and St Catherine.