Jersey bus drivers get 3% pay rise and strikes called off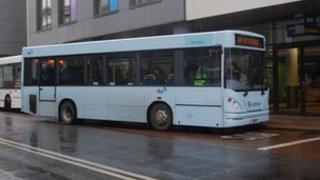 Jersey bus workers will get a 3% pay rise, the managing director of Connex has announced.
Eric Le Roux said all planned bus strikes are off and the company would also employ four new bus drivers from September.
The company has been in talks with the Unite union after a planned strike which could have affected thousands of passengers was called off.
Mr Le Roux said he was pleased a solution had been found.
He said: "Our initial offer was 2.5% but we gave a little bit and increased it up to 3% for all employees.
"It was important for us to find efficiencies and we agreed to employ more drivers from the end of September."
The BBC has tried to contact the union for comment but they are yet to respond.