Landing gear fails on Blue Islands plane in Jersey crash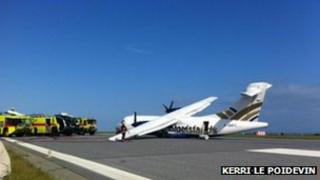 Initial investigations have shown the landing gear failed on a plane at Jersey Airport, said the managing director of Blue Islands.
Rob Veron said shortly after a safe landing, the landing gear failed and caused the undercarriage to collapse.
The Blue Islands ATR 42 had travelled from Guernsey, with 43 people onboard. No-one was injured in the incident.
The plane first flew in January 1986, and was one of the very first ATRs of that model to be built.
The BBC has learned many other ATRs of that age are no longer flying.
'Counselling'
No-one was hurt, but the runway was closed and flights were suspended for nearly eight hours on Saturday.
The airport stayed open until after midnight to clear the backlog of passengers.
Mr Veron said all passengers onboard were contacted on Saturday afternoon and offered counselling.
The Air Accident Investigation Branch (AAIB) has begun its investigation and three officers flew to Jersey to determine the cause of the incident.
Mr Veron said: "Safety is of paramount importance in our organisation and Blue Islands operate to the highest safety standards regarding the maintenance of our aircraft and training of our crew.
"All operators and aircraft meet the very same exacting continued airworthiness safety standards as set out by EASA, of which compliance is regulated by the CAA.
"Blue Islands are absolutely compliant with all regulations and are assessed on an ongoing basis."