Jersey subsidised homes plan questioned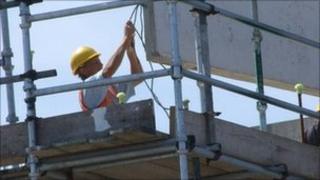 A Jersey architect has questioned whether the building industry should subsidise homes for first-time buyers.
Last week Jersey's Planning Minister said he wanted developers to be obliged to sell some homes to first-time buyers for £200,000.
The average price for a home in Jersey was nearly double that in the first quarter of 2012 at £398,000.
Carlo Riva, an architect with nearly 20 years experience in Jersey, said the plans were unrealistic.
The planning minister, Deputy Rob Duhamel, said he believed developers should provide affordable homes to first-time buyers when building six or more houses.
High land costs
Mr Riva said it was a huge burden for an industry facing bleak prospects.
He said a solution was needed but he was questioning whether the industry could or would accept what the minister wants.
Deputy John Young, who chairs the environment scrutiny panel, said it was unlikely the scheme would work because of the high cost of land.
He said: "I think it is all very well as the minister has said that you can build a house in terms of construction costs for £200,000 but what about the site that you have to buy?
"So we have got to have some way of recovering that so I think certainly the scrutiny panel will have to look at this model."