Jersey cannot stop tax schemes, says treasury minister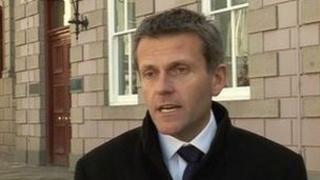 Jersey cannot stop people using aggressive schemes to pay less tax elsewhere, says the treasury minister.
Senator Philip Ozouf defended the island's finance industry after criticism in the national media over tax schemes using the island.
Comedian Jimmy Carr said he made a terrible mistake being involved with an extreme tax shelter scheme in Jersey.
Senator Ozouf said most financial services in Jersey were well regulated and good for business.
UK Prime Minister David Cameron on Wednesday called Mr Carr's use of the scheme "morally wrong".
Jersey's reputation
Senator Ozouf said: "It is almost impossible for us to legislate for every kind of activity that another tax-paying citizen somewhere else could take part in.
"What we do ask our financial services professionals to do is to comply with the laws of other countries and to think about how the island's reputation could be affected by accepting some sorts of business."
His comments came after it emerged more than 1,000 people, including Mr Carr, were thought to be using the legal Jersey-based K2 scheme.
It is said to be sheltering £168m a year from the UK Treasury.
About 24% of all employees in Jersey were employed in the finance sector in 2011, making up about 40% of the island's economy.