Jersey unemployed used to plant trees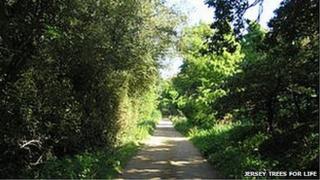 An ancient woodland full of exotic trees in Jersey has been restored by unemployed volunteers.
The Forgotten Forest, at the eastern end of Val de la Mare, was officially opened at the start of June.
Ten volunteers from the Jersey employment scheme Workwise have been helping protect and clear the woods.
The scheme is run by the States of Jersey to help long-term unemployed people retrain and get back into work.
Jersey Trees for Life arboriculturalist Conrad Evans has been overseeing the team, who have been busy strimming, clearing undergrowth and helping to restore the arboretum to its former glory.
'Really stuck in'
It is divided into 12 zones reflecting where the trees originate and there are many species from all over the world, including some examples rarely seen in Britain.
Mr Evans said: "We were delighted to work with Workwise and the volunteers, who were able to get really stuck in with helping us to renovate the arboretum, gaining work experience and a reference as a result."
Jersey Trees for Life led the project to clear the woods, which have become overgrown in the past three decades.
A spokesperson from the charity said the 50,000 sq m arboretum was unique in Jersey and contained many unusual species.
Social Security Minister, Senator Francis Le Gresley, said: "The potential for Workwise clients to move into open employment is greatly increased by taking part in schemes which show them what expectations an employer will have."