Jersey hospital sees scooter related injuries treble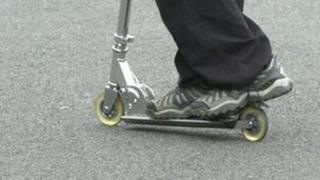 The number of children visiting Jersey General Hospital with scooter-related injuries has trebled in a year.
Louise Hamilton from Jersey's Child Accident Prevention Society said children were putting their lives at risk by playing on roads with scooters.
In 2011 58 children were treated in accident and emergency with injuries after riding scooters compared with 19 in 2010.
Ms Hamilton said she had arranged schools workshops to raise awareness.
"There are certain places to play on them and not to play on them. They have very small wheels that get caught in grates," she said.
"I see children scooting on the road and my heart is in my mouth, that is one of the reasons we are seeing more accidents."