Woman's body found at bottom of Gronez cliffs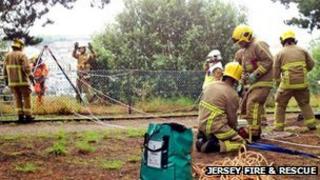 A woman's body has been found at the bottom of cliffs near Gronez in Jersey.
St Catherine's Lifeboat and the Channel Island Air Search plane were called out on Wednesday to help look for an elderly woman who had gone missing.
The search team saw a person on rocks about 80ft below the cliff path but above the waterline.
Police officers said there were no suspicious circumstances and a file had been prepared for the Viscount, who acts as coroner.
An air search spokesman said: "St Catherine's Lifeboat personnel were searching nearby and we were able to direct them to the location.
"A lifeboat crewman was able to approach the casualty and identify her as the missing person."
The rope rescue team from the Jersey Fire and Rescue Service was also called in to assist.