Jersey gas holder fire started while workers fixed a leak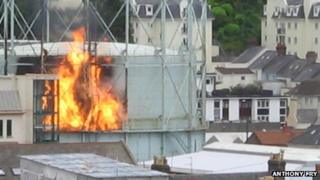 A fire in a Jersey gas holder started while workers were repairing a leak.
Jersey's Fire and Rescue Service has been investigating the cause of the fire which caused thousands of people to be evacuated from homes, schools and businesses last week.
A Jersey Gas worker suffered facial burns and one other employee was treated for shock.
Investigators have examined the scene, CCTV evidence and interviewed Jersey Gas employees.
A Fire Service spokesman said the fire developed quickly and attacked the joints in the tank.
He said: "This caused the joints to leak substantial amounts of gas to create a wall of fire."
The type of equipment used by the workers has not been revealed as it form part of the investigation.
Neil Shaw, chairman of Jersey Gas, said: "We acknowledge the findings of the Fire and Rescue Service investigation and can confirm that we will continue to co-operate fully with the ongoing Health and Safety Inspectorate investigation.
"We would like to take this opportunity to once again thank the Fire and Rescue Service and all of the emergency services and community groups who played a key role in bringing the incident to a safe conclusion."