Woman hit by lorry outside St Helier police station dies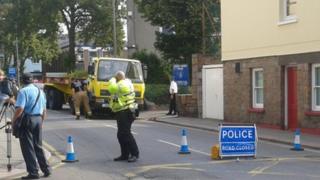 A 49-year-old woman died in hospital after she was struck by a lorry outside Jersey's police station in St Helier.
Jersey Police said the woman had been taken to the island's general hospital for treatment.
Rouge Bouillon was closed between Elizabeth Place and Queen's Road after the incident.
Police Chief Officer Mike Bowron said he had heard the crash from his office at the police station. He asked drivers to avoid the area.