Jersey company burns off gas from tank in St Helier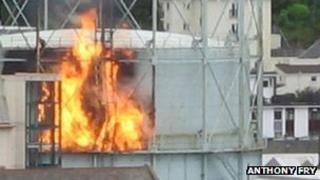 A gas tank in St Helier which caught fire and nearly exploded after problems with maintenance works is being emptied.
All gas in Jersey will come from the site at La Collette from Friday after the Tunnell Street facility is de-commissioned.
Experts will use nitrogen to displace the gas before putting it through a process called "control flaring".
Jersey Gas said this was to make sure none is released into the atmosphere.
The company said no-one would be able to smell or hear the gas being removed and work would be finished by late on Thursday.
Thousands of people had to leave their homes, businesses and schools for up to 24 hours during the fire in Gas Place.
Workers were doing maintenance on the cylinder when it caught fire at the beginning of the month.