Jersey police station plans revealed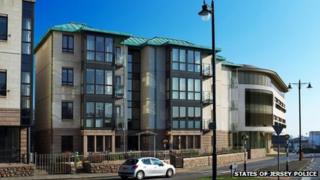 The design for Jersey's first purpose-built police station is being submitted to the island's planning department.
It would be built on the open area next to the Green Street Car Park.
Senator Lyndon Farnham, the Assistant Minister for Home Affairs, said he was relieved and pleased with the progress in getting the station built.
The £21m project was approved by a political steering group but still needs to be given final permission by the planning department.
Senator Farnham said: "At present the police operate out of four separate premises, this presents a number of logistical challenges and causes great expense.
"The police have done an excellent job up until now working under those challenges but it is time to move on.
"If we are to deliver modern, effective and appropriate policing services it is an operational necessity we move on to the next stage."