All Jersey Rugby Club matches to be broadcast live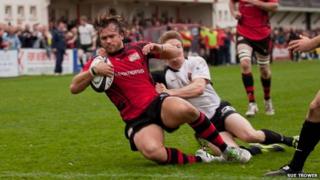 After Jersey Rugby Club's stunning rise up through the leagues to the Championship, the next nine months have the potential to be the greatest in the team's history.
With the islanders stepping up yet another division, BBC Radio Jersey will be stepping up coverage as well.
For the first time ever we will have live commentary of every match.
Whether home or away, if you cannot make the game you will still get to experience the action as it happens.
With four promotions in five seasons the buzz surrounding the club has reached new heights.
The latest results, injuries and signings have been the talk of the island and that excitement can surely only grow in the second tier of English rugby.
I will be joined at the various grounds around the country by summariser Richard Collinson.
He is a man who knows Jersey sport possibly better than anyone, a key factor in his selection to carry the Olympic torch in the island as part of the relay in the build up to the London Games.
As well as the live commentaries, our programmes will also feature in depth interviews with director of rugby Ben Harvey, the players, officials and of course the fans who have swelled in their numbers in recent years.
Last season an average of more than 2,000 people flocked to St Peter to watch the action, well ahead of the other sides in National League One.
It will be interesting to see if those kind of attendance figures hold up if the defeats start coming in their numbers. One thing is for sure, it's going to be great fun finding out whether the islanders can mix it with some of the best in the land.
Sportscene with Tim Pryor and Richard Collinson airs every Saturday from 2pm to 5pm on BBC Radio Jersey.