BBC Radio Jersey presenter Roger Bara to retire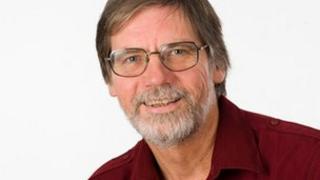 BBC Radio Jersey's long-serving breakfast presenter, Roger Bara, is to retire.
Mr Bara, who turns 60 in September, has worked for the BBC in Jersey over 20 years and spent many of them presenting the breakfast show.
He said he had decided it was time to enjoy a lie-in and plans to move to Cyprus with his wife Chrissie later in the year.
He is also giving up his role as the Musical Director of the Parklife Choir.
Mr Bara said: "If I look back at two decades of BBC Radio Jersey I cannot believe some of the things I have been allowed to do.
"It has been such a privilege to be at the forefront of local broadcasting, it's been brilliant."
Over the years Mr Bara has reported on Jersey's sport scene, and at the Island Games and Commonwealth Games, and BBC Radio Jersey's special election programmes.
Matthew Price has taken over presenting the BBC Radio Jersey breakfast show.