St John Ambulance bicycles at Jersey's Battle of Flowers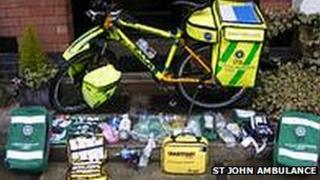 St John Ambulance will use its new bicycles for the first time at this year's Jersey Battle of Flowers.
A spokeswoman for the charity said the bikes would carry defibrillators and other first aid equipment.
Jane Allan, commissioner operations, said: "For St John Ambulance, getting to the most in need quickly and safely is vital.
"We want to ensure a patient gets help rapidly, and this can often mean the difference between life and death."
She said moving an ambulance through dense crowds can be difficult and using the cycle unit speeds up the time it takes to get to a patient.
Ms Allan said the bikes, which are the same type used by the States of Jersey police, would be useful for local events such as the Battle of Flowers, fun runs and charity walks.
There are more than 200 bikes being used by St John Ambulance units in the UK.