Optimists Club wins Jersey Battle of Flowers main prize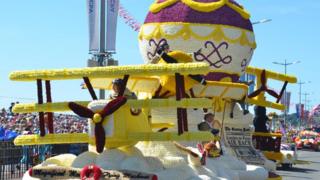 The Optimists Club has won the top award in the Jersey Battle of Flowers Parade.
The Prix D'Honneur floral was awarded to the club for its float The Magnificent Men in Their Flying Machines.
Second place, the Prix-d'Excellence went to the 2011 winners, St Clement, with its Peter Pan themed float Neverland.
More than 20,000 people turned out to watch the annual floral carnival.
A member of the Optimists Club said they were thrilled to win after coming second to St Clement for the past four years.
"We are over the moon and we are flying high, it is the most amazing feeling to have actually won after four years - we are thrilled," a spokesman said.
Other prizes, including the Prix-d'honneur de Papier, went to Peter Heath, Family and Friends with Gnomeville.
During the parade a couple posing as Cinderella and Prince Charming on the Chris Bidan family and friends float got engaged.
Mr Bidan asked Lesley Peyton for her hand in marriage as the float approached the main grandstand.
She said it was completely unexpected and accepted the proposal.
Moonlight parade
Twenty-nine floats created by parishes, youth clubs and groups took part in the event, which is celebrating its 110th year.
The Battle of Flowers began in 1902 to celebrate the Coronation of King Edward Vll and Queen Alexandra.
The carnival has been going every year since, apart from during the German occupation of the island.
On Friday evening the floats will return to the avenue for the moonlight parade and a firework display which will end the two-day celebrations.