Jersey Air Display 'could be last', says organiser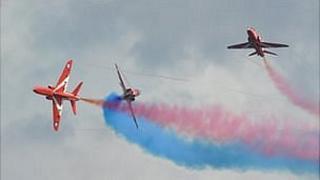 If the 2012 Jersey International Air Display is affected by bad weather it could be the last time the event is held, according to its organiser.
Last year mist and fog caused the display to be cancelled.
Mike Higgins said: "I honestly believe if this display is not successful that might be the end of it."
The annual event, which is due to include almost 20 aircraft including World War II planes and the Red Arrows, costs about £250,000.
Mr Higgins said the event had been operating with a shortfall of about £20,000 for the last few years.
He said: "With last year's losses because of the weather we've managed to finance this year's display so far, but we haven't got enough as a contingency.
"We had all the expense, but no income and because we've been for years with no reserves it hit us quite hard."
Mr Higgins said: "The truth of the matter is unless we break even, or make a small profit, this year then the days of the air display have got to be numbered."
The event, set to take place on 13 September, is funded mainly through sponsorship, but also through a States grant and fundraising events, including a static display of aircraft.
The money donated by members of the public on the day goes to armed forces charities.