Jersey's Queen Victoria Jubilee pool restoration plan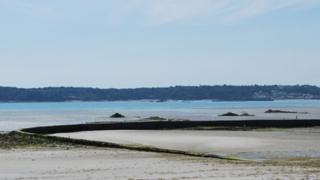 Plans have been announced to refurbish a Victorian seawater pool on Jersey's south coast after a decade of neglect.
Maintenance on the pool, built to celebrate Queen Victoria's Diamond Jubilee, stopped 10 years ago.
Now a working group wants to see it turned into a marine leisure area for this year's Queens Diamond Jubilee.
The pool, near West Park in St Helier, will be ready by next summer at the earliest if enough funding can be found.
'Derelict stones'
The pool, originally called the Victoria Marine Lake, was opened in 1897 and is Jersey's oldest such pool.
It no longer contains water after high tide.
Pierre Horsfall, from the working group, said: "It would make a huge contribution and as it is, it's nothing but a derelict pile of stones.
"Sooner or later somebody is going to have to spend a lot of money removing all that from the beach and doing that would cost almost as much as what we want to do with it now."