Mark Harris starts five-marathon Channel Island challenge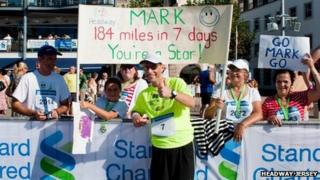 A charity fundraiser is starting a challenge to run five marathons in five days on different Channel Islands.
Mark Harris, 44, of Jersey, will run more than 130 miles to raise money for the Headway Jersey charity.
Known as "marathon man", he did seven marathons in seven consecutive days last year raising more than £8,000.
His first run is in Alderney later, then in Sark on Friday, Herm on Saturday, Guernsey on Sunday and finishing in Jersey on Monday.
Mr Harris, Headway services manager in Jersey, said: "I am hoping to make £5,000 but any amount will be fantastic and will go to help Jersey people who have suffered a brain injury, and their families."
He said he would just take each marathon day by day because they were all different.
Mr Harris said: "Headway is not only the place that I work, but it is also because one of our close friends suffered a brain haemorrhage and stroke and it has really hit all the family and friends.
"So the support that Headway will be able to give her will be fantastic."
He said when he finished he would put his feet up.
But Mr Harris said he had promised his mother he would not do any challenges next year.