Weather forces Mark Harris to stop Herm marathon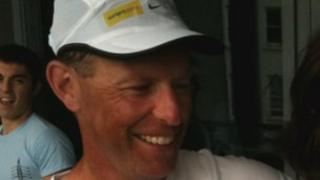 The weather forced a Jersey charity worker to abandon part of his attempt to complete five marathons on five Channel Islands in five days.
Mark Harris, 44, had to stop his marathon on Herm because the ferry to Guernsey had to leave early, he said.
However, he expects to raise about £5,000 for brain injury charity Headway.
His marathon odyssey started in Alderney before going to Sark, Herm, Guernsey and Jersey.
He said: "The weather on Herm was awful and we had to come back early because the boat had to leave early.
"I was very disappointed but I am hoping to go back and complete the challenge."
But he said the toughest time was on Sark where he had to run through muddy tracks.
He said: "I'm feeling a little bit tired but it has been great fun and I have met some fantastic people in all the islands."
Mr Harris did seven marathons in seven consecutive days last year, raising more than £8,000.