Jersey lightning strike destroys artist's work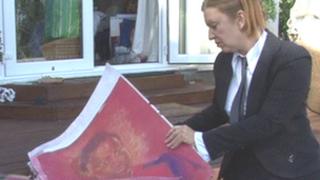 A Jersey artist said she was devastated after a lightning bolt destroyed most of her life's work.
Collette Hunt's studio in St Peter caught fire when it was struck on Friday.
Firefighters managed to keep the flames away from her house and car, but most of her art is either scorched or water-damaged.
She said: "When the fork lightning came out of the sky and hit my garage it was unbelievable, the smoke, the fire."
Ms Hunt said almost all of her work, including portraits, had been destroyed.
"Luckily the firemen took all the pictures out that were in the front, I can see a few pieces that are almost ok, we will have to see really," she said.
Mont Orgueil castle in St Martin was also struck by lightning on Friday. Electrical equipment, including the intruder and fire alarm systems, was damaged, and the castle had to be closed for the weekend.