Jersey Live festival's new ticket policy 'in line' with UK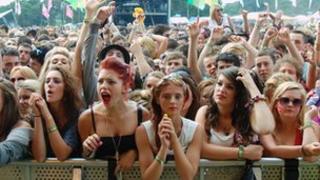 Stricter rules for children going to the Jersey Live festival bring it in line with UK music festivals, according to a spokesman.
Anyone under 16 will have to be accompanied by an adult at the event in Trinity.
Chris Bell, a spokesman for the event, said the new rules about children were drawn up after feedback about last year's festival.
The two-day festival is now in its ninth year.
States of Jersey Police Ch Insp John Sculthorp said: "We want everyone to make the most of this year's event and we are pleased that the majority of people are well-behaved, but last year we did have problems with young people drinking.
"So we are letting them - and their parents know - that this behaviour won't be tolerated and anyone under 18 who is suspected or caught drinking faces eviction from the site."
Festival organisers say tickets sales increased rapidly in the past week and there were now less than 2,000 of the 10,000 tickets left. They expect a sell out before the event starts on Saturday.
'Last minute'
Festival director Warren Holt said people in the Channel Islands often left buying tickets for such an event until the last minute.
Mr Bell said the new ticket policy brought the island event in line with major festivals such as Glastonbury, Bestival and Reading.
"Any of these major festivals, they all have the same policy, that under-18s can't go unaccompanied by an adult.
"The difference between Jersey Live and those festivals is it is unlikely you will get a 12, 13 or 14-year-old jumping on a train to Somerset to go to Glastonbury on their own. Jersey Live is on their doorstep," he said.
Mr Bell said people aged 18 and over would still need to prove they were old enough to purchase alcohol.
But now they would also need to prove they were old enough to accompany a youngster. People aged 16-18 would also need ID to prove they did not need to be accompanied by an adult.
Noel Gallagher and Chase & Status will headline the event that starts at 12:00 BST on Saturday.