Jersey church dedicated to island's patron saint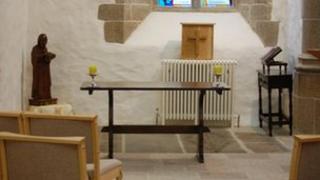 A chapel to mark the memory of Saint Helier, the patron saint of Jersey, has been dedicated by the Bishop of Winchester.
The Right Reverend Tim Dakin marked the sign of the cross on the floor of the chapel in the St Helier parish church.
The chapel was used to house the workings of the organ until recently, but has had a complete overhaul.
The dusty pipes and other church equipment have gone and the parish icon hangs in an alcove.
It is the latest stage of the church's £2.2m six year refurbishment.
The Dean of Jersey, the Very Reverend Bob Key said there was no point redeveloping the building if there was no space for the "proclamation of the Christian faith".