Concern about Jersey Airport and Harbours incorporation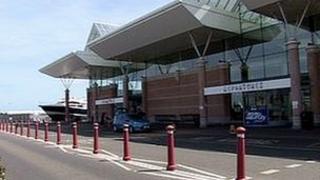 Workers unions at Jersey's Airport and Harbours said they were unhappy with a move to incorporate them.
Jersey politicians are due to decide this week on a plan for the facilities to be run by one company with the States as sole shareholder.
It is the same way Jersey utility companies such as Jersey Post and JT are run.
But the unions are worried staff contracts could change for the worse if it goes ahead.
Kevin McAlonann, negotiations officer from the union Prospect, said: "We urge the members of the States to view these proposals with caution and consider public concern over the ownership of such important strategic assets.
"After all there is not another port or airport on the island which the public can use instead."
But Assistant Economic Development Minister Deputy James Baker said it would bring in more money for the States of Jersey.
He said: "It is a longer term objective of making sure the ports are sustainable for the future.
"There is considerable capital investment that is required and by going down the incorporation route we have the ability to control our costs better and grow the business."