Jersey General Hospital intensive care unit opens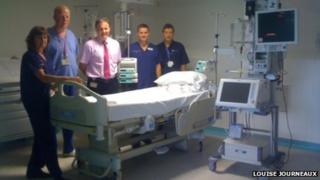 Work on an intensive care unit (ICU) at Jersey's General Hospital has been completed as part of a £3m upgrade.
In January a five-bed decant facility was finished, while the ICU will provide for up to seven critically ill patients.
It has replaced the current ICU, which was opened in 1989.
Annually about 200 patients are admitted to the hospital's surgical intensive care unit, while around 550 use the medical intensive care unit.
The final stage of the project involves the refurbishment of ancillary and treatment rooms and specialised isolation rooms, with work expected to start in October.