Jambo the gorilla commemorated on Jersey stamps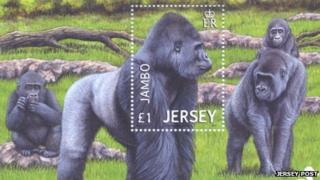 A gorilla who saved a five year-old boy in what was known as Jersey's Zoo will be commemorated on a set of stamps.
Jambo, a silverback gorilla, became famous when he protected Levan Merrett from other gorillas when the boy fell into the enclosure in 1986.
It is 20 years since Jambo died and the stamps have been issued to mark the anniversary.
The stamps are based on pictures taken by his keeper of 15 years, Richard Johnstone-Scott.
Immense legacy
Jambo was the first male silverback gorilla to be born in captivity, the first to be mother-reared and was one of the most prolific breeding silverbacks.
A Durrell spokesman said: "His contribution to the saving of his species was immense and his legacy currently exceeds 100 individuals."
Levan Merrett was five-years-old when he fell into the gorilla enclosure, and was unconscious.
Jambo stood protectively over him, and stopped other animals coming close until keepers were able to move the injured boy to safety.
Jersey Post said it would donate 10% of sales of the stamps to the Durrell Wildlife Conservation Trust.