Inquiry into Jersey's Plemont holiday village plans begins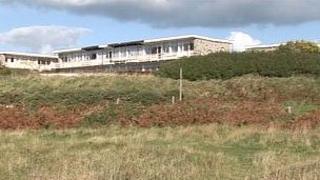 The owners of a former holiday village in Jersey would explore tourism options for the site if new homes are refused, a public inquiry has heard.
Peter Thorne, representing the developers, said if plans were refused for the former Pontins site in St Ouen, they would consider building a hotel or self catering apartments.
Plemont Bay Estates has submitted plans to build 28 homes on the site.
An independent inspector is hearing the case for and against the plans.
A number of projects to redevelop the holiday village have been rejected over the past decade.
But the developer has faced opposition from conservation campaigners such as the National Trust for Jersey over the plans. The trust wants to buy the site and return it to nature.
'Political decision'
The plans for the site include a reed-bed rainwater recycling pond and landscaping of the site into public open grassland on the north side of the site near the coastal path.
Mr Thorne said: "My client will probably revert to tourism if he doesn't get planning permission for housing.
"If they get housing permission then that is what they will do.
"If the States decide they want to acquire the site, then there is nothing stopping them actually approaching my client to see whether they are prepared to sell it."
Alan Langton, the inspector leading the investigation, said the idea of whether the States should buy the site was outside the scope of the inquiry and a political decision, not a planning decision.