Pregnancy whooping cough vaccine not offered in Jersey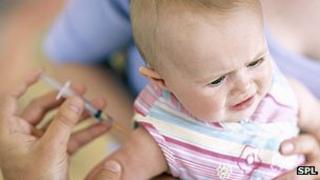 Jersey's medical authorities are not planning to give pregnant women a whooping cough vaccine.
Hundreds of thousands of pregnant women in the UK are to be offered a whooping cough vaccine to protect babies from an escalating outbreak of the disease.
Jersey's Medical Officer of Health Dr Susan Turnbull said the "advice probably isn't relevant for Jersey".
She said a higher proportion of children are vaccinated against the illness in Jersey than in the UK.
Dr Turnbull said she was discussing developments with her staff.
She said: "I am going to go and look at [the latest advice] with my colleagues back in the department and just review the situation and see if we think we would wish to go down the same route.
"But my understanding is that it is a response to the outbreaks in England particularly and we are not having the same problems."
There have been almost 4,800 confirmed cases of the disease in England and Wales between January and August, more than four times the total figure for last year.