Extended stay for painting of Major Peirson in Jersey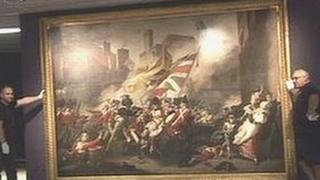 A famous painting of the Battle of Jersey will stay on display in the island until next summer.
The Death of Major Peirson is on loan from the Tate in London.
The Jersey Museum has agreed with the gallery to keep it on display in the island until next July instead of January as originally planned.
Jon Carter, Jersey heritage director, said: "It has increased our local use very significantly this year and had really good support from schools."
The Death of Major Peirson was painted in 1783 by American artist John Singleton Copley.
The painting shows the moment in 1781 where Major Francis Peirson led the battle against invading French forces in Jersey's Royal Square.
A team of about 15 people were needed to manoeuvre the three by four metres artwork into the Jersey Museum in April for its nine-month stay.
The painting which weighs half a tonne, had to be winched up to a balcony by crane and a window and surrounding wall had to be removed to fit it into the museum.
Mr Carter said Jersey Heritage also planned to exhibit the horde of ancient Celtic coins unearthed in a field again before Christmas.