Jersey seaweed 'may be sent to France'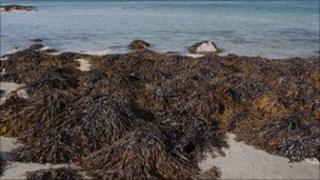 Seaweed from Jersey's beaches could be sent to France for use as an alternative energy source.
Deputy Rob Duhamel, the Jersey's Environment Minister, said a meeting with French officials could help find a solution to a build-up of sea lettuce.
A large amount of seaweed washed up on St Aubin's Bay in 2012, which cost the island more than £20,000 to clear.
Deputy Duhamel said engineers in France would be looking to use the sea lettuce to produce methane gas.
In September 2012 plans for dumping the seaweed out at sea were discussed by politicians.
Plans involved towing a barge out to sea and depositing the weed away from the island.
However, concerns were raised at the time over the possible need for special permits.